Catering to nature enthusiasts, avid hikers or those simply on the lookout for some spectacular views, the Mornington Peninsula boasts experiences for every visitor and holidaymaker. These trails and boardwalks offer glorious, sunshiny views that make for incredible, unforgettable experiences for families, friends, couples and solo hikers alike.

So, if you're heading to the Peninsula to soak up some of the awe-inspiring scenery, here are our top 5 places to visit:
Bushrangers Bay (2.5km, approx. 1.5hrs)
Begin at Boneo Road car park and trek through shady Banksia groves and greenery, with interspersing views of the surrounding farmland and the creek valley below. Open up to the sandy shores and sprawling scenes of Bushrangers Bay, where you can linger at the lookout or head down the stairs to get some sand between your toes.
A short walk along the shore, or with the waves lapping at your feet if that's your style, will lead you to natural rock pools where you can investigate the sea life. Watch the world go by from the sandy shore and catch your breath before your stroll back to the car park – allow 2 hours.
If you're keen on that brisk southern water, you might like to wade through the rock pools, but please note swimming on this site is not recommended – the beach is unpatrolled and often hazardous due to large waves and strong rips.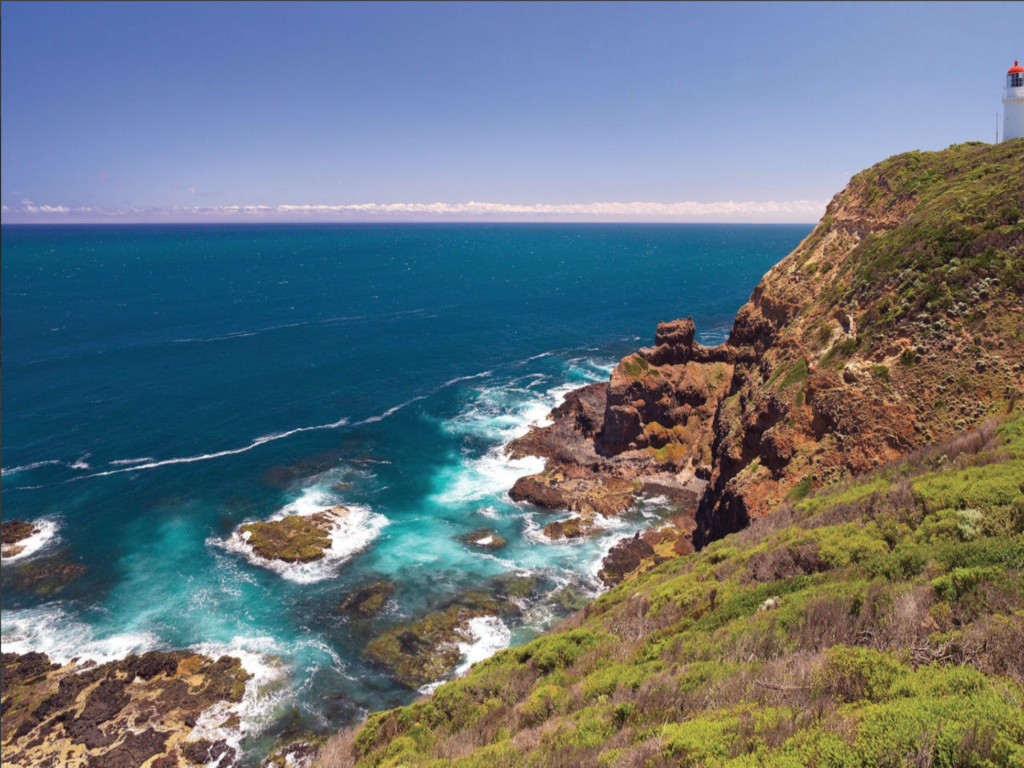 Point Nepean National Park (options for 3km, 4.5km and 5.5km trails)
Walk through the rich history and magnificent open landscapes of Point Nepean National Park through to Fort Nepean, the southern tip of the Peninsula. Fort Nepean is 5.5km walk from the front gate, a 4.5km walk from the Quarantine Station carpark, or a 3km walk from the Gunners Cottage carpark.
Spanning back centuries, Point Nepean National Park is on the land of the Boon Wurrung people of the Kulin Nation – its glittering coast has been cared for by the traditional custodians of this land where they have gathered medicine and food for thousands of years.
Beyond its panoramic ocean views, what also remains at Point Nepean today are the military forts and tunnels that played a crucial role in shaping the early European settlement and defence of Australia. Used to quarantine arrivals, defend the colony and for military training, this extraordinary historical precinct is a striking site to wander and investigate the alluring buildings, barracks tunnels, gun emplacements and sprawling bay views of Port Phillip Bay.
Cape Schanck Lighthouse Reserve (6km, approx.4km)
Starting from Boneo Road, Cape Schanck, this 6km walk takes you along the Bushrangers Bay Track to hit the Southern-most point of the Peninsula. A proud beacon atop stunning sandstone cliffs, the Cape Schanck lighthouse has been illuminating the way for ships to safely pass through the Bass Strait since 1859. Explore the Cape Schanck Lighthouse Reserve and soak in the breathtaking scenery of the Mornington Peninsula coastline. Adventure along walking tracks and make your way to The Pines picnic area for a well-deserved lunch amongst the scenery.
The lighthouse holds a rich and fascinating history, which you can learn about at the Lighthouse Museum or on a guided tour of the limestone and sandstone lighthouse itself. Climb the steps to the lamproom, which has housed lightkeepers for over a century. Venture on to the tip of Cape Schanck and you'll find yourself at Pulpit Rock lookout with a wonderful view of basalt cliffs, sparkling rock pools and crashing waves.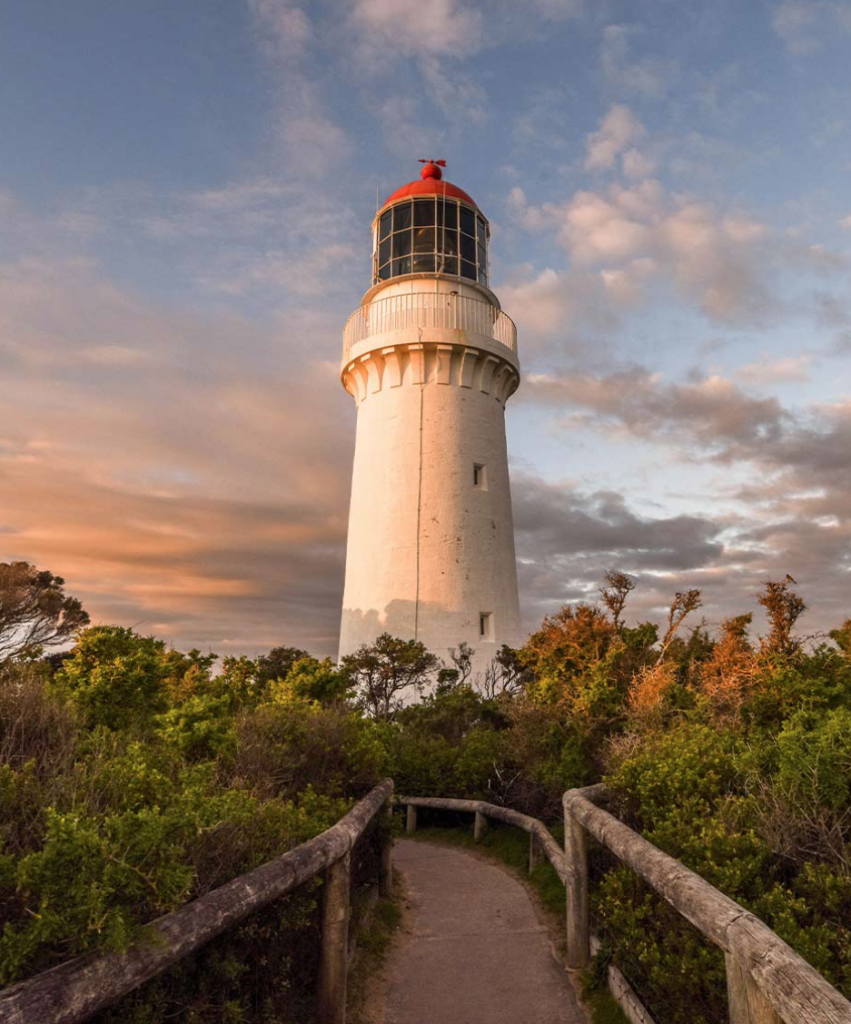 Greens Bush (options for 3km or 12km)
Located within the awe-inspiring Mornington Peninsula National Park, Greens Bush is a collection of walking tracks ranging from a short circuit to a day hike.
Looking for a wilderness walk on the shorter side? Baldry's circuit is the bush bash for you! A closed-circuit track, this short 3km loop takes about an hour to walk, taking you alongside Main Creek through beautiful fern gullies, Manna gums and Eucalyptus. You'll encounter some dry creek crossings breaking up the mainly sandy terrain. You might even spot some Kangaroos in the adjoining paddocks.
If you're after a longer trek, Greens Bush provides lengthier options. Making up part of the Two Bays walking track, the out-and-back track through Greens Bush is about 12km and offers a beautiful afternoon in a coastal expanse amongst the largest species of Banksia in Victoria. Start from Baldrys Road, Main Ridge and come out the other side at Boneo Road, Cape Schanck. You may wish to organise a pick-up or drop a car off at the end before driving back to the start.
Take deep breaths of fresh air as you stroll through tree fern, grass tree and Eucalypt forests as well as open grasslands, scrublands and remarkable cliff views. Some of the taller trees are over 200 years old! This track is home to a vastly biodiverse group of plant life and fauna – keep an eye out for Honeyeaters, Wedge-tailed Eagles, Wrens, Parrots, Black-shoulder Kites and Kangaroos.
Seawinds to Seamist Drive (3km, approx. 1 hr)
Park up in the free car park at Seawinds Gardens to start your dreamy walk to Seamist Drive through stringybark woodland. The woodland around you should shelter most of your meandering from the wind and sun, making this a great track on those hotter or gustier days, and all the days in between.
You may wish to start with a picnic at the picturesque BBQ area in the gardens, as this walk does not loop back. Or, make it a return walk and grab a well-earned picnic lunch from the car back at Seawinds.
The 3km track is a mix of gravel and grass and should take about an hour. Like many tracks through the Mornington Peninsula, this walk can be extended along the 26km Two Bays Walking Track, or stands alone for an easy to moderate stroll.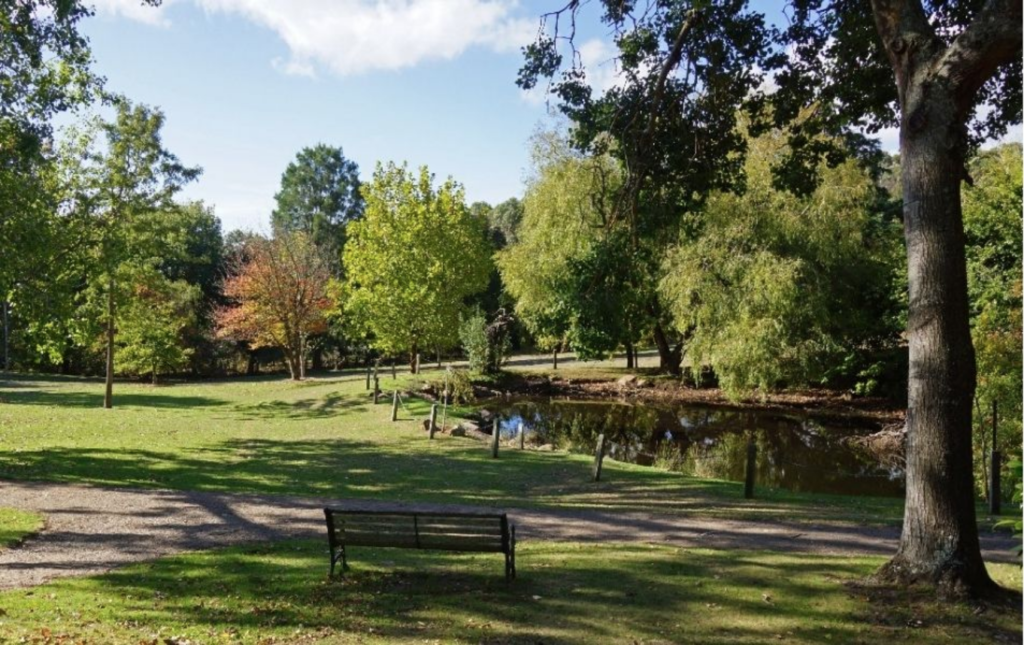 Backpack on? Laces tied?

Now you're ready to discover the charming and refreshing landscapes the Mornington Peninsula offers.
Pick a track that sounds like a good length for you and your walking buddies – don't forget your water bottle, sunscreen, sturdy shoes, and maybe a snack or two!